Basic Garage Door Parts
Garage door parts play a very important role as these not only keep the garage door together but also provide a counterbalance and travel mechanism that allows various sections to move when the door is opened and closed.
There are many small parts working together to operate the garage door. However, like all the other things that you use on a daily basis, these parts also wear with time. You will need to replace some of the garage door parts after some time. Here is a guide on some of the most common parts that may need to be changed sooner or later.
Rollers are the moving parts that help in moving the door. These do not fail that often as compared to some other parts but these do start giving problems if proper maintenance is not done. When the garage door moves up and down, there rollers run in the steel track which is on the either side of the door.
Sometimes, these rollers give up or the bearings wear out. In such a case, it is recommended to replace these rollers at the earliest to ensure that the door keeps working without any issues.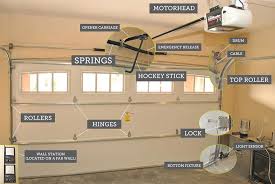 Cables do the actual heavy lifting and there is a lot of wear and tear due to this. Eventually, cables get frayed and are not able to handle the tension. It is important to replace the cables as and when these start showing signs of failure. The garage door will simply snap up if one of the cables breaks.
Cable drums also fail from time to time. These usually wear out on the middle of the drum which makes it difficult to open as well as close the garage door. These cable drums may also damage the cable riding on them. Therefore, you should get these cables replaced in case you notice some problems with it.
There are a lot of other small parts that keep the door moving. The parts from well-established brands usually come with multi-year warranty against manufacturing defects and premature failure. The actual wear and tear depends on the climate as well as usage and other things. There is no fixed time limit and the only way to check parts failure is to check on a regular basis and replace before failure.
While some of the basic parts are not that difficult to replace, experts recommend hiring the services of a professional to install the other parts. You need to keep in mind that the garage door is very heavy and if it fails, it can lead to some serious injuries. So, if you do not have any experience in replacing the parts, you should always call up a professional to install your new garage door or to replace some of the failed parts.
There are a number of professionals offering services related to replacement of parts as well as installation of completely new garage door. You should check their reviews before hiring them and let the professionals handle the job that they are trained to do that.